I have to say actually putting together my baby registry was one of the most stressful things I have ever done! There is SO much conflicting information, reviews to read, and SOOO many safety standards to be aware of.
You walk into a baby store and there are 500 brands of bottles, diapers, diaper pails, and so on.
HOW DO FIRST TIME MOMS KNOW WHICH ONE IS THE RIGHT ONE?!
And the fear you feel about choosing the wrong item is real.
I would have never completed my baby shower registry if it wasn't for the amazing mamas on Instagram. You ladies helped me with what brands to choose, what to look for, and what I don't really need. (But let's be real, I put EVERYTHING and more on my registry.)
CHOOSING WHERE TO REGISTER
What really overwhelmed me at first was deciding where to register. I wanted something from everywhere: Target, Walmart, Etsy, Wayfair, Buy Buy Baby and so on. Was I really expected to create different registries at all those stores, keep them organized, and then send family and friends a list of 20 places to choose from?!
But then my sister-in-law told me about Babylist.com and for the first time during this process, I felt relieved.
Babylist.com is basically one giant registry. You can add items from any website in the world and they organize it on one list for you. Not only that, but they price shop. So if I add something from the Babylist website or Amazon, they will search the web for you and list the top 3 prices at different stores for people to choose from.
To make registry shopping easy, you can add a Babylist extension to your browser and phone. So no matter what website you are on if you find something you want to add to your registry all you have to do is click the little "heart"! A pop-up will come up and you can choose what category it goes under and add any notes for your friends and family.
If you already started registries at various stores you can also connect those and download them all to your Babylist. So now you have just ONE registry. Seriously your friends and family will thank you for making it so easy for them (hello more gifts!) Plus once someone reserves or buys you an item from your list, it removes it completely so you don't receive multiple of the same thing!
What I also loved about Babylist is there are hundreds of articles for every category. They talk about the top 5 items in each category with reviews, pros, and cons. It helped me feel calmer and like I was making an educated decision on what was best for me and baby girl.
More mama's need to know about Babylist because it really is a lifesaver especially for first-time mamas. We are already stressing about everything under the sun, we don't need to stress about our registry too.
WHAT TO PUT ON YOUR REGISTRY
During the process, I probably texted my mom a hundred times asking if this or that was okay to add to my registry. Basically what I learned is whatever you think you will need for you and baby it's okay to add it on there.
Also because Babylist allows you to put items from any website, I used it as a catch-all to keep me organized too. Things I didn't expect people to get me but didn't want to forget (like the Dyson Hot/Cold fan & Nursing Bras) I added to my list. So after my baby shower, I can go through and mark what I received and see what I have left to get.
The best part about doing using Babylist as a registry and shopping list for you?! THEY GIVE YOU 10% OFF WHEN ONCE YOU HIT 8 MONTHS PREGNANT!!! The 10% off is only valid from their store BUT they have so much to choose from that if you saved an item from a different website, you can search Babylist real quick, find it, add to your registry, then claim the 10% off!
I'm pretty sure your guest viewing your registry also get 10% off once you hit your 8 months. It's perfect for us because I am having my baby shower at 35 weeks so everyone shopping for us will get a discount from Babylist!
The categories I created are:
Baby Gear
Transportation
Diapering
Hospital Bag
Feeding
Bath Time
Health & Safety
Nursery Decor
Storage
Clothes
Toys
For Parents
I created a category for EVERYTHING and then organized it by what was most important to receive. But today I am only sharing with you my favorite items on my registry. Some are not necessities but fun items I can't wait to get!
---
BABY GEAR
Delta Children Lil' Fun Walker
Boost walking confidence and help stimulate baby's early development with Delta Children's Lil' Fun Walker. Outfitted with a quick release toy tray that's topped with a steering wheel, lights and sound, it goes from playtime to snack time in seconds.
Ingenuity Wood FoldAway Rocking Bassinet Classic – Wallace
Enjoy more peaceful moments from naptime to nighttime. With its smart design, this bassinet is a dream for parents and babies. The unique foldable frame collapses, so you can move the bassinet seamlessly from room to room. This breathable fabric is also made to promote airflow, giving baby a cooler and comfortable space to rest. When baby is this calm, everyone can rest easy.
More airflow keeps baby more comfortable
Rocking soothes baby; locks in place when asleep
Portable design folds for easy transport and storage
Spacious cradle for more comfortable sleep environment
Beautiful and neutral design for boy or girl
Supergood 100% Mineral Sunscreen Lotion
Sunnyscreen is our first line of uncompromising SPF for babies and toddlers ages six months and up. The collection features three 100% non-nano mineral formulas – including this lotion – and they check all the boxes, meaning they've been pediatrician-tested and are also fragrance-free, silicone-free, hypoallergenic and easy to apply. Our hydrating lotion for face and body is water-resistant for up to 80 minutes, and the TSA-approved stand-up bottle fits just as nicely in your diaper bag as it does inside your medicine cabinet.
FEEDING
Milk Snob Cover BAMBI
The original Milk Snob® Cover is a fitted infant car seat cover that can also be used as a cover for nursing, shopping carts, high chairs, infant swings and more. Milk Snob® Covers are made out of the highest quality, super soft, lightweight and breathable rayon blend fabric.
Comotomo Bottles
DIAPERING
Coterie Weekly Diapers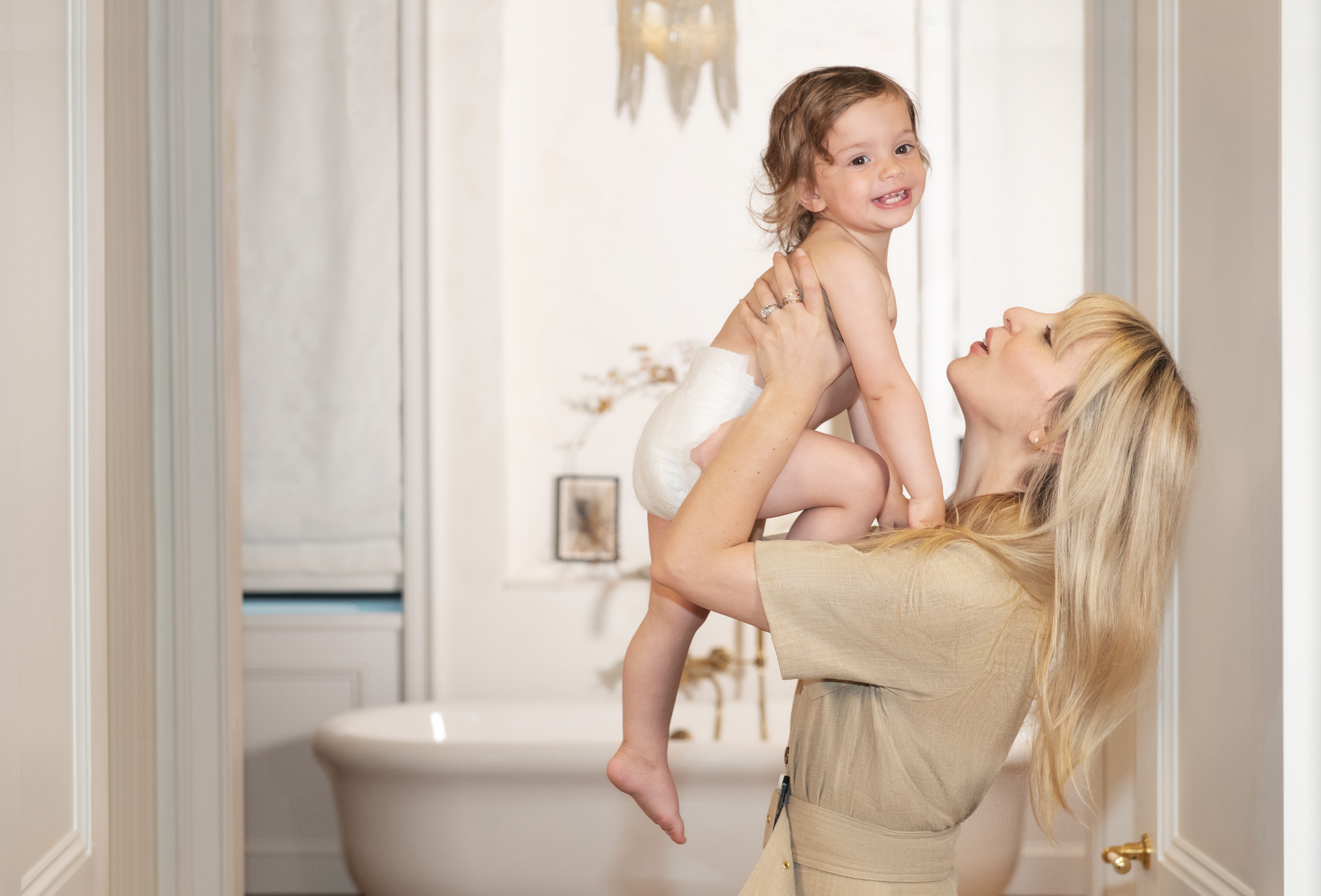 100% free of chlorine bleaching, fragrances, parabens, and lotion, Coterie diapers are dermatologist-tested and clinically proven hypoallergenic. Our carefully designed diaper ensures a smarter fit with flexible, secure panels that limit leaks and blowouts. We engineered a softer fabric to help prevent skin irritation and rashes, ensuring your baby's comfort.
PINXAV Diaper Rash Ointment
Prevent and Treat Diaper Rash. Always have a tube of PINXAV when you need it! One for home and one for the diaper bag. Be ready for any irritating moment!
NURSERY & DECOR
Delta Children Cozy Puppy Chair
This Cozy Puppy Chair by Delta Children is so doggone good! Full of oh-so-huggable charm, this cute animal chair with a padded seat and plush fabric offers the perfect kid-sized spot for reading, relaxing or snuggling. It's the perfect companion—the chair's playful puppy face with three-dimensional floppy ears will remind little one's of their favorite four-legged friend. Get it for child's playroom or bedroom today!
Lollipop Baby Camera with True Crying Detection
CLOTHES
BODOKE Kids 
You are going to love these beautiful headbands. Mix and Match our beautiful Sydney Big Bow Headbands to complete your baby's look. They come in six different colors. Stretchable Soft material. Use code MARIAH20 for 20% Off. 
HALO SleepSack Wearable Blanket (Cotton)
HALO's cotton Sleepsack Wearable Blanket is an excellent choice for keeping your baby cozy when transitioning from the swaddle. The baglike design makes babies feel secure, but they can move their arms and legs freely to find a comfortable position and self-soothe. It's also safe to continue using once they can turn over. It's meant to be worn over PJs as a safer alternative to a loose blanket. Because it can't be kicked off, the wearable blanket will also keep your baby warmer at night. And it unzips from the bottom for easy diaper changes.
Little Luna Company Knotted Gowns
MOMMY & ME
Gryph & Ivyrose Probiotics For Mom & Kids
Kensi's Korner Mama Shirts
---
And that's all for now. These are some fun and important items I am happy to have on my registry. If you would like to see everything I have on my registry you can check it out here.
If there was something I forgot on my registry, I would love to know! Drop a comment below.
Thanks for reading!
Xoxo,
Mariah